Dramatic Reading cartoon 1 of 2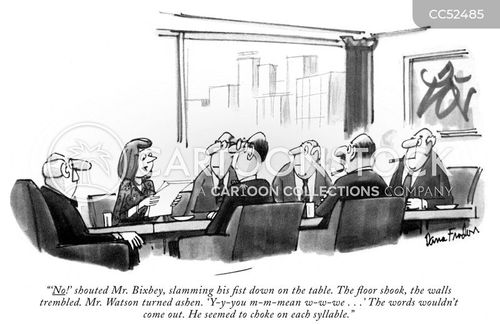 " 'No!' shouted Mr. Bixbey, slamming his fist down on the table. The floor shook, the walls trembled. Mr. Watson turned ashen. 'Y-y-you m-m-mean w-w-we . . .' The words wouldn't come out. He seemed to choke on each syllable."
Artist:
Fradon, Dana
Search ID:
CC52485
High Res:
3000x1947 pixels (unwatermarked)
Tags:
boardroom, boardrooms, boardroom meeting, boardroom meetings, minutes, transcript, transcripts, novel, novels, novelistic, gripping, narrative, narratives, writer, writers, dramatic reading, dramatic readings, monologue, monologues, taking minutes, author, authors, embellish, embellishes, embellishing, secretary, secretaries, storyteller, storytellers, storytelling, story, stories, story time, read, reads, reading
Share This Cartoon:
Dramatic Reading cartoon 2 of 2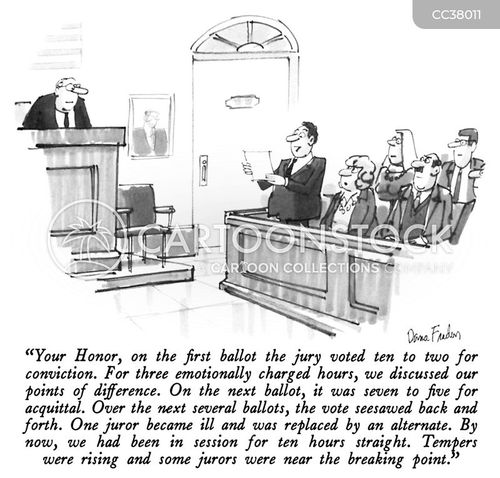 "Your Honor, on the first ballot the jury voted ten to two for conviction. For three emotionally charged hours, we discussed our points of difference. On the next ballot, it was seven to five for acquittal. Over the next several ballots, the vote seesawed back and forth. One juror became ill and was replaced by an alternate. By now, we had been in session for ten hours straight. Tempers were rising and some jurors were near the breaking point."
Artist:
Fradon, Dana
Search ID:
CC38011
High Res:
2411x2304 pixels (unwatermarked)
Tags:
juror, jurors, jury, juries, jury duty, autobiography, autobiographies, account, accounts, verdict, verdicts, read the verdict, reading the verdicts, dramatic, reenact, reenactment, dramatic reading, dramatic readings, foreman, foreperson, foremen, forepeople, trial, trials, jury trial, jury trials, courtroom, courtrooms, judge, judges, criminal trial, criminal trials, discord
Share This Cartoon: