Hypersensitivity cartoon 1 of 2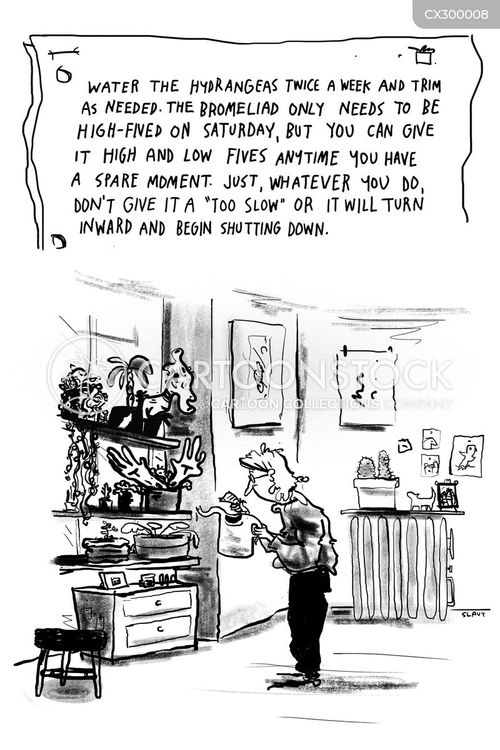 Water the hydrangeas twice a week and trim as needed. The bromeliad only needs to be high-fived on Saturday, but you can give it high and low fives anytime you have a spare moment. Just, whatever you do, don't give it a "too slow" or it will turn inward and begin shutting down.
Artist:
Lautman, Sara
Search ID:
CX300008
High Res:
2500x3750 pixels (unwatermarked)
Tags:
house sitter, house sitters, house sitting, plant, plants, houseplant, houseplants, house plant, house plants, instructions, water, waters, watering, hydrangea, hydrangeas, bromeliad, bromeliads, sensitive, sensitivity, oversensitive, oversensitivity, hypersensitive, hypersensitivity, high five, high vies, low five, low fives, children's game, children's game, prank, pranks, pranking, prankster, pranksters, shut down, shuts down, shutting down
Share This Cartoon:
Hypersensitivity cartoon 2 of 2
"Your present state is caused by a hypersensitivity to existentialist thought. I'm recommending mega-doses of pragmatism as a therapeutic counteractive."
Artist:
Mankoff, Bob
Search ID:
CX300893
High Res:
2947x2209 pixels (unwatermarked)
Tags:
hospital, hospitals, clinic, clinics, doctor's office, doctor's office, medical, medicine, doctor, doctors, patient, patients, health, health care, healthcare, philosophy, doctor of philosophy, doctorate, doctorates, hypersensitivity, hypersensitive, existentialism, existentialist, existentialists, pragmatism, therapy, counteractive, therapeutic, prescription, prescriptions, prescribing, dose, doses, philosopher, philosophers, psychology, health
Share This Cartoon: