Nightmare Customers cartoon 2 of 3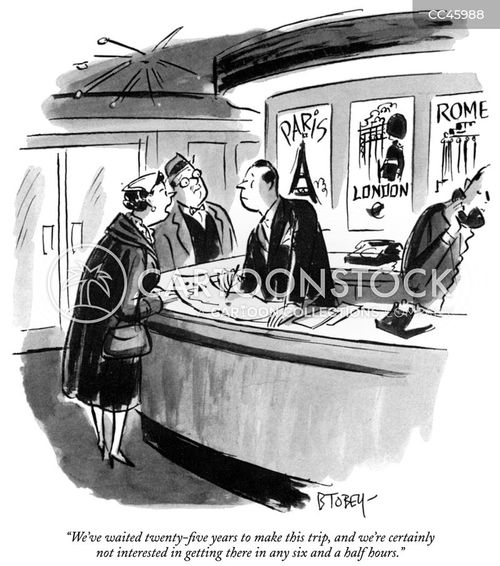 "We've waited twenty-five years to make this trip, and we're certainly not interested in getting there in any six and a half hours."
Artist:
Tobey, Barney
Search ID:
CC45988
High Res:
1764x1995 pixels (unwatermarked)
Tags:
travel agent, travel agents, travel agency, travel agencies, flight, flights, flight time, flight times, paris, london, rome, vacation, vacations, vacationing, plan, plans, plans, dream vacation, dream vacation, middle age, middle aged, tourist, tourists, tourism, impatient, impatience, patience, greedy, greedy, entitled, entitlement, customer, customers, nightmare customer, nightmare customers, difficult customer, difficult customers, entitlement complex, entitlement complexes, travel time, travel times
Nightmare Customers cartoon 3 of 3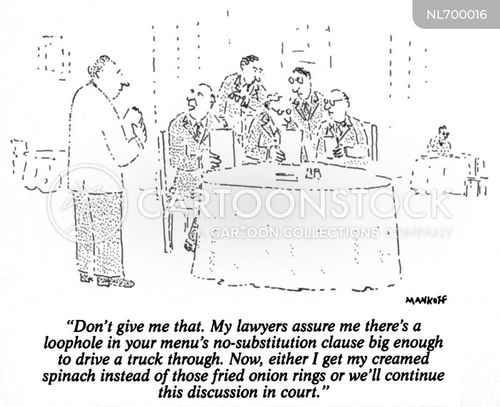 "Don't give me that. My lawyers assure me there's a loophole in your menu's no-substitution clause big enough to drive a truck through. Now, either I get my creamed spinach instead of those fried onion rings or we'll continue this discussion in court."
Artist:
Mankoff, Bob
Search ID:
NL700016
High Res:
1680x1368 pixels (unwatermarked)
Tags:
policy, policies, no substitution, no substitutions, store policy, store policies, restaurant policy, restaurant policies, lawyer, lawyers, attorney, attorneys, legal representative, legal representatives, nightmare customer, nightmare customers, customer, customers, diner, diners, dining, eat out, eats out, eating out, onion ring, onion rings, side, sides, meal, meals, set menu, set menus, flexible, inflexible, inflexibility, pushy, obnoxious, difficult customer, difficult customers, tantrum, tantrums, temper